studio
koster
van
lienen
Studio Koster van Lienen is a interdisciplinary designstudio that looks and find the story within…
Roggestraat 44
7311 CD, Apeldoorn
Netherlands
info@skvl.com
Eloi Koster
+31 (0)6 22 18 99 91
eloi@skvl.com

Jesse van Lienen
+31 (0)6 10 65 70 24
jesse@skvl.com

KvK 63969491
Btw nr. 8554.72.170


Studio Koster van Lienen is led by Graphic Designer Eloi Koster and Interiorarchitect Jesse van Lienen. The studio works on projects concerning books, corporate identities, interior architecture, exhibitions as well as autonomous works. Most importantly, we partner with our clients to create a vision on a matter. Therefor open dialogue is essential.

Our designs are distinct, always contentual and have a storytelling approach. We strive for designs to be durable, that is, they not only answer todays questions, but precede the issues of tomorrow.
During the creative process we have a hands on approach, but collaborate with a carefully selected network of craftsmen and artists as well. We cross the borders of our own disciplines in search of conjunctions that are worthwhile. A small office, for big ideas.
small office
for big ideas
Studio Koster van Lienen keeps a small office so that we can think big. Without limitations we look at the assignment at hand and translate our findings into a extensive strategy. Accordingly to this strategy we collaborate, develop and execute.
As a small office we travel light. It gives us the opportunity to give our projects a different approach. For example; For the design of a toy museum in an empty church we kept office in the church to get the real feel of the place. From that point of perspective we started our design process. Created from within! That's the way we like it!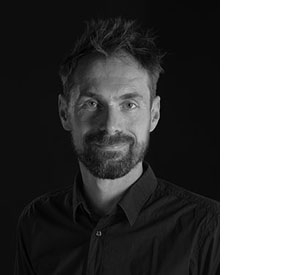 eloi
koster
Eloi Koster graduated as a graphic designer at ArtEZ Institute of the Arts in Arnhem in 2004. Years of experience in traditional techniques ensure that Koster always develops a design or product as a coherent whole. Out of natural curiosity, the work often goes beyond the boundaries of the discipline.
designstudio specialized in exhibition design, book design, interior design and identity strategy

Every design is the result of a partnership with our clients and creates a vision on a matter that reflects the essence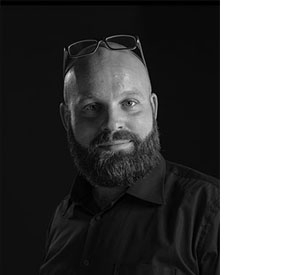 jesse
van
lienen
Jesse van Lienen graduated as an interior and furniture designer at ArtEZ Institute of the Arts in Zwolle in 2000. His work is characterized by a focus on spatial experience, the role of the user, sensitive use of materials and an autonomous visual character. Van Lienen also teaches furniture design at the department of interior design at ArtEZ Zwolle.